Artists will receive a confirmation of their attendance on the Artists' Alley, only after a portfolio selection.
EECC/TCC Artists' Alley is a place for individual projects, or projects of 2 artists, but under no circumstances more.
Collaboration projects between 3 or more artists, can request an exhibitor booth at the regular price.
Bring only your work, not your friend's work, not your family's work or anyone else than yourself. Copyright infringement will result in losing the artist booth, and restriction from ever attending EECC/TCC's Artists' Alley.
The concept of "Artists Alley" is not something new to the great conventions from abroad. The last decade has determined the development of this idea on an international level, transforming it in a recruitment area for big visual arts and graphics companies or those that publish comics. This concept was introduced for the first time in Romania in 2009 at the Nijikon Festival in Bucharest and, since 2012, Japan Play Transylvania offers this opportunity to the young population of Cluj.
Artists' Alley is a special place for individual artists who wish to display their talents in drawing, graphics, painting, design. Comic Con is here to help young artists and offers them a place where they can sell their own creations, meet fans and sign autographs. Due to the fact that the space on Artists' Alley is limited, those who desire to take part in this activity must sign up either using the form below or send their CV and a portfolio containing their work at [email protected] ,after which those selected will be contacted.
The Artists' Alley is dedicated to those who want to sell their own creations which are comic book, anime-manga, superhero, Fan Art, Gaming, TV series and movie-themed. Examples of products that are sold in this area: Posters, Prints, Pins, Shirts, etc. We provide all selected artists with a free space, the tax covers the utilities used. While for the artist who chose to ensure a spot without going through selection, the fee represents utilities and 50% of the space fee.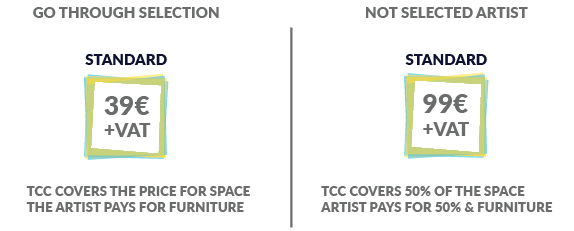 | | | |
| --- | --- | --- |
| | Go through selection | Skip Selection |
| | Standard | Standard |
| 3 Days Ticket | 1 | 2 |
| Table | Yes | Yes |
| Table Cloth | Yes | Yes |
| Chairs | 1 | 2 |
| Price | 39€ +VAT | 99€ +VAT |
Rules and regulations of the EECC for the Artists' Alley
1. Artists' Alley is a place dedicated to offering individual artists the chance to sell their creations and advertise themselves within the festival. Thus they are the only ones responsible to respect the local laws and EECC is exonerated.
2. The works presented at the Artists' Alley must be Comic Books, Illustrations, Concept Art, Graphic Novels or Animation related to any theme of the event, such as fantasy, sci fi, games, comic books, TV series, anime/manga etc.
3. Artists Alley participants are required to pay the EECC invoice, of 39/99 Euro+VAT on the confirmation day. Each selected artist has 5 working days to confirm his spot on the EECC's Artists' Alley.
4. Each artist can bring one or more helpers to take his/her place at the stand or to help sell his/her works. In case of a Standard option they will have to purchase an access ticket and an extra chair. However the basic rule of the EECC's Artists' Alley is that the Artist/Author must sell his work himself.
5. The minimum age required to participate at the Artists' Alley is 16. In case the participant is underage (under 18), the contract will be signed by his/her legal guardians.
6. Those wishing to participate at the Artists' Alley can send their portfolios and CV starting with the 4th of September 2019 until the 20th of September.
7. Artists are required to attend all 3 days of the event and cannot participate on a single day of the EECC.
8. There will also be a back-up list for possible withdraws. For further details on this matter please contact us.
9. After confirmation, participants will benefit of a reserved stand and advertising on the www.comic-con.ro website and our Facebook page.
10. Participants at the Artists' Alley will present themselves on Friday October 18th, between 10:00 a.m. and 11:00 a.m. to arrange their stand. Arranging the stand until the official opening(14:00 pm) of the festival is mandatory.
Arrangements consist of:
Positioning the art merchandise on tables.
Exhibiting the banners and roll-ups within the assigned space.
Establishing the price of each object and offers (if necessary), before the arrival of  the public. These can be modified afterwards according to each artist's preferences and strategies.
Decorating. Decorations mean any type of object that comes with the stand, which can make it more appealing. Also, objects meant for the activities organized by the artist within his/her stand can be included as decorations.
11. Artists are allowed to advertise and attract clients through multiple decent methods, in order to sell their works. They can bring laptops, monitors, create videos etc. (in case they require sockets, participants are asked to pay a fee of 30 Euro+VAT bring extension cords, and request 30 days before the event the socket, however the Venue charges for installing each socket!). They cannot use audio materials, in order not to create a chaotic atmosphere and disturb the official organizing. In case of using inadequate methods, artists will be sanctioned. The promotion can only take place in the designated area, in this case the artist's booth. Distributing flyers and other promotional materials outside of the stand/booth is prohibited.
12.Connecting to someone else socket or directly into the high voltage electrical panel is strictly prohibited and very dangerous. Anyone unauthorized person attempting this will be removed from the event. In artists case, they will not be refunded for the paid invoice!
13. Participants at the Artists' Alley have the permission to organize, within their stand, interactive and attractive activities for the public: contests, raffles, commissions, live drawing, ingenious offers etc.However selected artist cannot invite other artist to do activities(live drawing, signing, commissions) at their table. 
14. Any object destined for selling on the Artists' Alley must be the artist's creation entirely. Using works or prints which do not belong to the artist (works taken from other artists, from the internet, scanned or taken from friends etc) in order to advertise or sell is strictly prohibited. Examples: traces, modified drawings, colored art lines, drawings having a different base etc. Any deviation from this rule result in permanent removal from the Artists' Alley of the Transylvania Comic Con.
15. Drawings aimed at a mature (18+) audience will be kept in a closed folder and will be allowed to be shown only based on an ID card. These works can be sold only by those of age to those of age.
16. For safety, the stand must permanently be supervised by the artist or his/her helper. The Transylvania Comic Con organizers do not take responsibility for stolen or lost objects!
17. Deteriorating the furniture or materials offered by Transylvania Comic Con (tables, chairs) or the surrounding space (walls, floor etc) is prohibited. In a case of a damaged furniture the artist will be held responsible and will have to pay for the damages.
18. Due to the limited space, artists will be given a fixed place, outside of which they are not allowed to display or perform any commercial activity.
19. Using pornographic or excessive violence, offending minors, racist or xenophobic materials is prohibited.
20.
 Artists must respect the rules mentioned above, otherwise noncompliance will result in immediate termination of contract and removal from the event!
Sign-up – Artists' Alley
Please send an email to [email protected] with the following information:
Full Name (mandatory):
Nickname:
Selection(mandatory): Yes or No
Type(mandatory): Standard or Premium
Email (mandatory):
Portfolio - Link (mandatory):
CV(Curriculum Vitae) PDF/DOC (mandatory):
Specifications (optional):
Description of the Artist (mandatory):
Description of the merchandise (mandatory):
By sending this email you agree and are subject to the rules mentioned above!