East European Comic Con is a private event, failure to comply to the bellow rules will undoubtedly result in loosing access to the event, in which case we do not reimburse you for the ticket!!!
18.05 Friday Open Hours:
16:00 - 21:00
19.05 Saturday Open Hours:
10:00 - 20:00
20.05 Sunday Open Hours:
10:00 - 19:00
available here
.
Tickets:
Prior to the event, you can buy a general access ticket from the following stores in Romania: Orange Shop, Diverta, Vodafone, Germanos, OMV, Carturesti and Humanitas. For a complete list of stores near you, please click here and insert your city. You may also buy them online from Comic-Con.ro and Eventim.ro
If you live outside of Romania you can buy an E-Ticket from this website
http://comic-con.ro/tickets/
.
You will find tickets at the event as well but the prices will be a bit higher. Don't forget to check the information on Ticket Points, Wristband Points and Check Points!
For prices, please check this link
http://comic-con.ro/tickets/
.
Note that…
The General Access tickets are available in sale until May 16th 2018. Starting with May 17th 2018, tickets will be available for the regular event prices (for the prices, please check the link above).
The Actor tickets (for panels, autographs, photo OP or Full) are not subject to presale price deductions and are available all the time for the same price, but in a limited stock.
We kindly ask not to take selfies with the actors while waiting to get the autograph, not to ask for multiple autographs signed for one ticket. Remember 1 Photo Op Ticket = 1 Photo with the actor for 1 Person! 1 Autograph Ticket = 1 signing on one item! We kindly ask to respect the person in front of you while getting the Photo Op or Autograph.
Going to East European Comic Con?
EECC takes place at the Romexpo Exhibition Center in Bucharest, Romania. More exactly in Hall B1 and Main stage in C1. You can get there by car, trams, bus or subway. For all the information you need, please check the
GETTING TO EECC
section.
EECC Map overview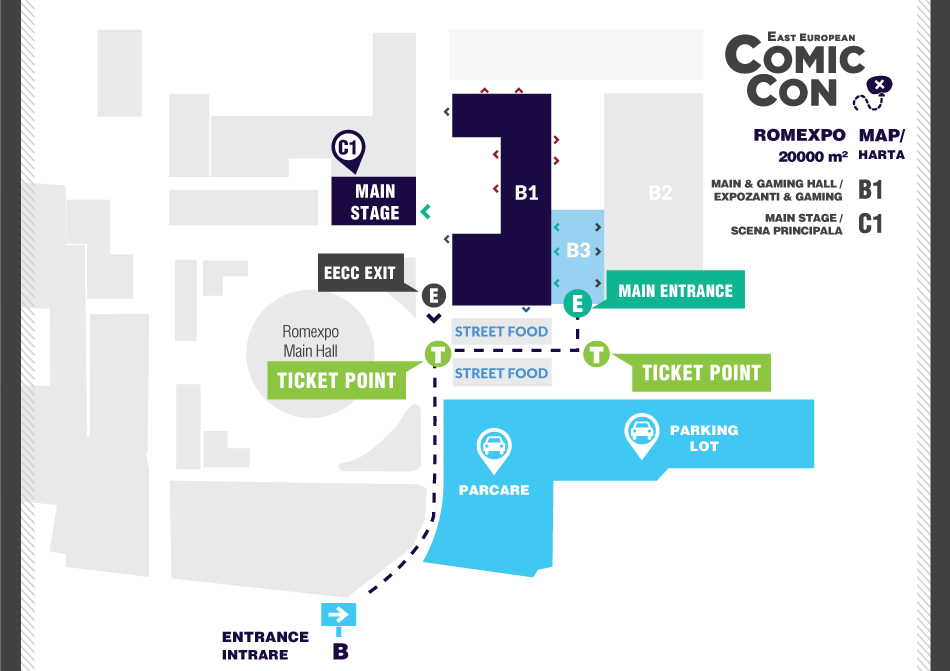 How to get inside EECC?
By car: entrances B and C. By foot: entrance A and B.
From Friday to Sunday in front of Hall B1 there will be a free of charge Street Food Event "StreetFood Heroes" you may visit from Friday at 12:00 until 21:00. You are not required to get a wristband to enter it. However if you want to enter Comic Con, after buyin a ticket you need to go the Wristband Point located Romexpo B3 Hall. People without tickets will go through 3 Points to get into the Comic Con Halls.
BUY YOUR TICKETS ONLY FROM COMIC CON TICKET POINTS! DO NOT BUY WRISTBANDS / ENTRANCE BRACELETS AS IT IS ILLEGAL AND WE ARE VERY GOOD AT DETECTING FAKES OR USED BRACELETS!!! YOU WILL NOT BE ALLOWED TO ENTER!!!
1.      Ticket Points
Right outside the Comic Con B1 Hall (AT ROMEXPO), you will notice booths that are selling tickets. Those are the Ticket Points provided by a third party seller (ENTERTIX). You will find both General Access Tickets and Actor tickets here, depending on the available stock. If you bought an E-Ticket from our website, you should print the ticket in order to avoid long lines! If you have it on your mobile, please have it ready for checking. You might be required to present an ID Card, but your data will not be stored.  
2.      Wristband Points
If you already own or you just bought a General Access Ticket,
head to B3 Hall
, where our SuperVolunteers will rip the ticket and will put a wristband (bracelet) on your wrist. We use this system so you can enter and exit the Halls as many times as you would like. As you enter B1, our SuperVolunteers will provide you with a guidebook containing the maps and timelines for EECC.
Be careful not to tear the wristband apart!!! If you do rip your wristband, you will lose access to the event.
Also if you bought an "All 3 days ticket" you will receive ONLY ONE wristband for all 3 days. The wristbands are made out of Tyvek material and they are waterproof and very resistant.
3.      Checking Points (Entrances)
Each of the 1 Halls at Romexpo will have ONE ENTRANCE and ONE EXIT. You might have to show your wristband each time you enter one of the halls. To avoid any inconvenience, please make sure you only use the ENTRANCE to enter the hall and the EXIT to exit the hall.
4.      Using the ticket on another day?
If you bought a ticket for Saturday, YES YOU CAN USE IT ON FRIDAY OR SUNDAY. However it must be used only on one day. If you bought a Sunday ticket, then it can only be used for Friday or Sunday. Friday Tickets will be used only on Friday!
5.      I can't attend anymore can I sell my tickets?
Do not do this! If you sell your tickets on a website like OLX or announce on Facebook we have the right to cancel your ticket without a refund. RESELLING TICKETS IS ILLEGAL!!! Tickets includes taxes that are paid to local and national fiscal authorities, any re-seller must be authorized by us, the organizer. The only entities allowed to sell tickets on our behalf are Entertix-Myticket and Eventim.
5.      Can I get a refund?
If you request a refund BEFORE THE EVENT, and within 30 days of buying it we can offer a refund. However if the ticket is found on OLX or Facebook for selling. The ticket is automatically canceled. We are very serious about illegal selling!
5.      Why is the tickets policy so strict?
Not only because tickets have VAT, local taxes and duty, but also because there are people who try to re-sell the same ticket multiple times! Which is not just illegal it's FRAUD! While we try to prevent our customers from being deceived, we enforce a very strong policy. Anyone who tries to enter with the same ticket twice or more, will have to face the authorities. And, yes buying the tickets from other websites or stores, than the ones we have announced officially is also illegal, and will be on your own risk.
REMEMBER YOU NEED A GENERAL ACCESS TICKET NO MATTER WHAT KIND OF ACTOR TICKET YOU HAVE!
Romexpo Hall C1 (Main Stage Hall):
This is the home for the Main Stage. The Main Stage will host Cosplay contests, and also your favorite internet celebrities (animators, vloggers, comedians, cosplayers etc.) and see the latest movie trailers and exclusivity brought to you by the largest movie studios in the world (Marvel, Disney, Warner Bros, Universal, Paramount and MGM). Here is also where you attend the famous Panels(Q&A) with the actors and artists attending EECC.
Romexpo Hall B1 (Main Hall):
The Vendors & Sponsors area is the place where you can buy your Comics, Figures, T-Shirts, Books and many other geek stuff, you can also meet the artists on the Artists' Alley and more importantly, enjoy the HBO – Game of Thrones and Westworld Area. The Actors Area is the place where you can meet the actors if you bought an extra ticket (Actor Ticket). You can talk to them, or make a picture in the Photo Ops area alongside the actor or get a personalized autograph signed by the actors just for you. The Gaming Area will host 1 stage where teams gamers will try to win the EECC's official League of Legends competition. The Gaming Hall will be filled with games and gaming gear novelties from biggest companies like Omen by HP, Adata, Asus, Acer, Lenovo, Logitech, Ubisoft, Dell, PC Garage, TP-Link, Trust Gaming, HyperX, PC Coolers and many more. You will also find the Boardgames Area, where you can play games like Catan, Dixit, Game of Thrones, Carcassonne and many other Trading Card Games and Boardgames.
Means of payment
CASH
– Romanian currency is LEI (RON), average exchange rate should be 1Euro for 4.7RON, and 1USD for 3.9RON. Please make sure you change your money in LEI (RON) since very few exhibitors will accept USD and Euro. Before you reach the registers, in order to save time, please prepare the exact change.
CREDIT CARDS
– A few exhibitors will have POS so we encourage you to use cash.
ATMs
ATMs are available either at Romexpo or in the vicinity. Within 10-20 minutes' walking range, you will find ATMs from the following banks: BCR, BRD, Banca Transilvania, Raiffeisen Bank, RBS, Banc Post, Unicredit Tiriac.
Food and Drinks
We have focused in creating a safe place where you can try the best food, "StreetFood Heroes". All other places in the Romexpo halls or outside are contracted by Romexpo, not by EECC. Don't forget to regularly drink water as it's very hot, both in the waiting lines and inside the convention halls.
Cosplay changing rooms (C1 HALL)
We will provide dedicated changing rooms for all cosplayer, the cosplayers who are part of the on stage EECC Cosplay Contests have priority.
WHILE IN THE CHANGING AREA YOU ARE REQUIRED TO BE SILENT, AS IT IS VERY CLOSE TO THE MAIN STAGE. FAILURE TO COMPLY WILL RESULT IN SECURITY REMOVING YOU FROM C1 HALL.
Weapons Policy
It is forbidden to wear or use weapons or replicas inside and outside of the halls unless they are blunt. Any usage that causes damage to anyone or any object will be your responsibility and you will be punished according to the Romanian Laws.
In other words, keep your swords and knifes into their sheaths, or any other sharp objects away from people.  The SuperParamedics  that will be present at Comic Con may use their healing  power but sometimes they are just not fast enough.
NO GUNS AND NO RIFLES ARE ALLOWED UNLESS THEY ARE PLASTIC REPLICA! AIRSOFT MODELS MUST HAVE A ORANGE CAP ON THE MUZZLE AS WELL NO GAS OR BATTERY!!! GAS OR BATTERY WILL BE CONFISCATED AT THE ENTRANCE
AT ANY TIME THE AUTHORITIES CAN DECIDE TO DROP BY AND DO A CHECK, IN WHICH CASE THEY WILL NOT ALLOW ANY TYPE OF REPLICA. SO BE AWARE THAT YOUR GUN CAN BE CONFISCATED.
Any weapon carried by anyone inside the Autographs, Photo Ops or Panels Area, will be confiscated by security services. All the other weapons sold inside the festival, must be kept in their boxes!
Kids at East European Comic Con
The festival will have some areas that are not suitable for children, so any person under 14 should be accompanied by an adult. We highly recommend that parents attend the event along with their kids; after all, it can be fun for everyone regardless of their age. Kids
under 6
 years old are granted free access ONLY if they are accompanied by a parent that bought a ticket for him/herself. The rule is simple, 1 adult with a ticket + 1 kid, 2 adults with a ticket each + 2 kids, 3 adults with a ticket each + 3 kids. If you lose your kid we'll try to help you find him, but in order to prevent this kind of situation you should set up a meeting point just in case you get separated! Our SuperVolunteers can use their X-Ray vision to scan for the kid in the crowd, but you know how busy superheroes are.
First aid
In case of someone feeling faint or getting hurt, contact the SuperParamedics located outside and inside the B1 Hall or the medical service at
112
!
Animals
Animals are forbidden at the event, unless they are trained assistance dogs.
*An assistance dog is a dog trained to aid or assist a person with a disability.
Lost items
During the festival, found objects are brought back to the information desk (INFO POINTS) which keeps them until the end of the festival. If we find the lost objects, we will keep them until after the event, to allow you to get them back. You just have to send us an e-mail (
[email protected]
) with a precise description allowing us to identify the object you lost. Then we'll get back to you. If items are still unclaimed, 3-4 weeks after the event, we'll post a picture with them on Facebook.
Parking at Romexpo
Our suggestion is to leave your car at home as the parking can be at sometimes full. Romexpo has a parking lot but they charge you 3Ron/hour. It's up to you where you decide to park, but be careful if you park on Bulevardul Expozitiei as the local authorities will pick up your car in less than 10 minutes.
East European Comic Con is a private event, failure to comply to the above rules will undoubtedly result in loosing access to the event, in which case we do not reimburse you for the ticket!!!